Inbound Marketing Inc. Case Studies
Real clients. Real results.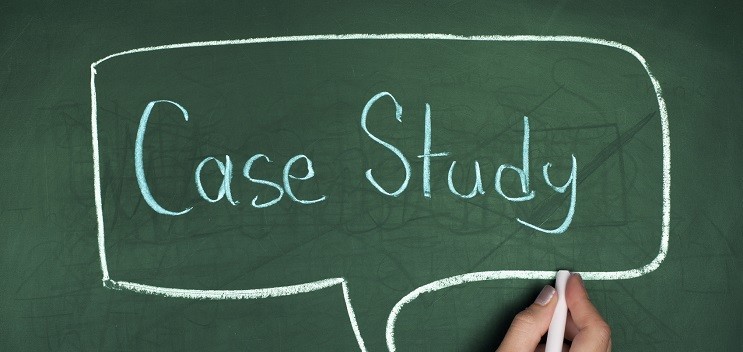 These B2B inbound marketing case studies and B2C website design case studies show how Inbound Marketing Inc. has improved the online presence of businesses.
Read each case study below to learn how we increased website traffic, redesigned out-of-date sites, and created effective and unique inbound marketing strategies for these clients.
Cleveland Brothers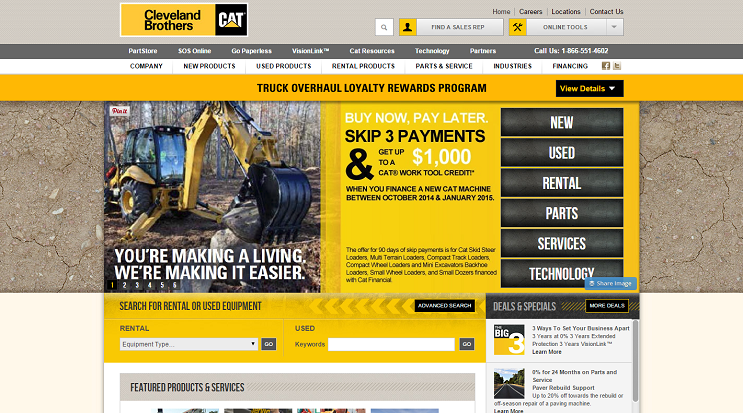 The Cleveland Brothers' site, while averaging about 650 unique visitors per day, was outdated when they first contacted us. It lacked modern functionality like site search, contact forms, and analytics tracking. The site also had errors and broken links, which made navigation difficult, and a bounce rate of 65% (meaning 65% of visitors went to their site and left right away). The site also didn't show up well in search engines, as it only ranked in the top position for 23 search terms across three search engines.
Web Design
Inbound Marketing Inc. redesigned the Cleveland Brothers website and added search engine and usability architecture. We built a web application that pulled Caterpillar's entire used machinery inventory from the central database in Peoria, Illinois. At any given time, ClevelandBrothers.com could display every piece of used equipment available at Caterpillar headquarters for sale worldwide.
Internet Marketing
Inbound Marketing Inc. implemented an aggressive local search engine optimization (SEO) campaign, targeting most of Pennsylvania and Western Maryland. We also created a pay-per-click advertising (PPC) campaign that targeted the entire United States and other construction-rich countries throughout the world like Chile, the UAE, and Eastern Europe.
Effectiveness
After we implemented all of our strategies, we tracked the results. The Cleveland Brothers website showed a 25% improvement in bounce rate, a 17% jump in overall traffic, and 47 new top placements for valuable keywords in search engines. Newly-implemented analytics software allowed the company to see exactly the types of visitors that came to the site as well, which helped the company better target its demographic. In addition, following our SEO and PPC strategies, calls to Cleveland Brothers offices spiked 367% and website conversions jumped 350%.
Van Air Systems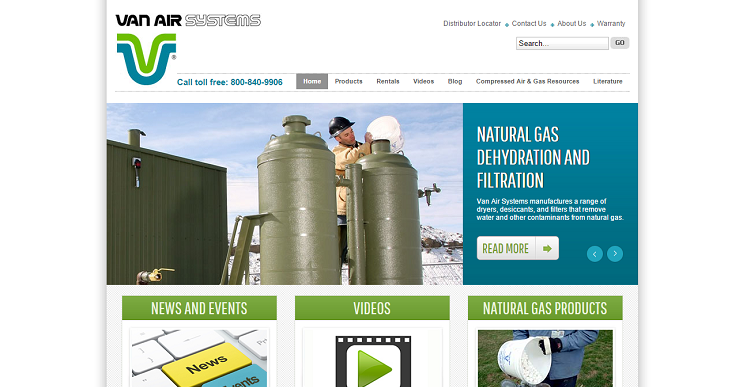 Van Air Systems came to Inbound Marketing Inc. looking for ideas about a website redesign. After assessing their needs, we recommended an extensive new website that incorporated all of their available products with a lengthy description on each product page and a brand-new site design.
Our Design
Our strategy for Van Air Systems incorporated a clean, open look with lots of color contrast for crisp section divisions on each page. Today, the site is designed for maximum usability and features SEO-friendly design methods. We also craftd a flash animation highlighting Van Air System's premier product, the energy-free Freedom Dryer.
Internet Marketing
With our SEO strategy in place, Van Air Systems achieved global rankings in Google for the terms "compressed air dryers" and "compressed air dryer,"" thanks in large part to the vast amounts of product-specific content on their site. The company also ranks on the first page of Google for "air dryer" and "air dryers", beating out the vast majority of their competitors.
Effectiveness
Overall traffic -- and search engine traffic especially -- increased dramatically after the launch of the new site. Since the website redesign, Van Air Systems experienced the following improvements: a 52% increase in search engine traffic, a 70% increase in overall traffic, and a 35% increase in the amount of time that visitors spend on their site. Now, Van Air Systems boasts one of the highest conversion rates of any of our clients and continues to work with us on a quarterly SEO program.
Triple Crown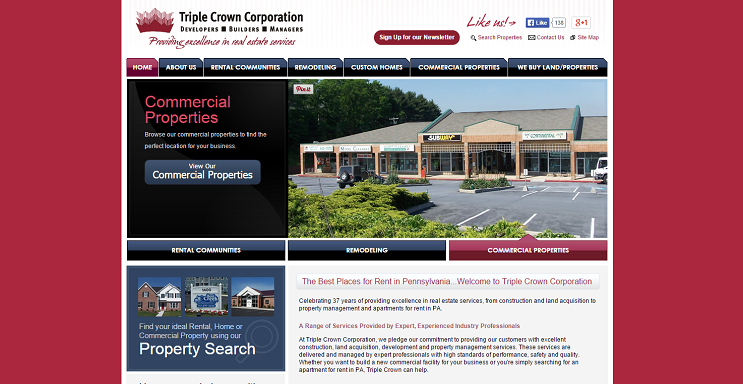 Triple Crown Corporation is a real estate services and property management company that serves Central Pennsylvania. They came to us for a complete solution to establish an accurate and more professional presence on the Internet.
Our Design
Triple Crown's site combines a family-friendly look and feel with branding that promotes a sense of excellence in real estate services. Navigation between the company's three separate divisions (home sales, rental properties, and commercial space) is also easy thanks to large navigation tabs on the top of each page. Additionally, the site displays images that promote the benefits of moving into a new house, condo, or apartment in each section's header.
Internet Marketing
Inbound Marketing Inc. designed and maintains custom SEO and PPC campaigns on an ongoing basis. The SEO campaign aggressively targeted local search terms that related to Triple Crown Corporation's core business, like "Harrisburg homes" and "Hershey apartments."
In addition, the PPC campaign for Triple Crown Corporation targeted visitors not only by keyword, but also geographic location. Triple Crown's ads appeared to searchers anywhere in the United States searching for "Harrisburg homes." Plus, anyone searching for more broad terms like "commercial property" or "new homes for sale" within Central Pennsylvania also see Triple Crown ads.
Effectiveness
After implenting an online marketing strategy Triple Crown Corporation, the website achieved a 120% increase in conversions, 22% increase in search engine traffic, and 24% increase in clicks. They were also able to decrease their spending for PPC ads by 7%.
Dover Downs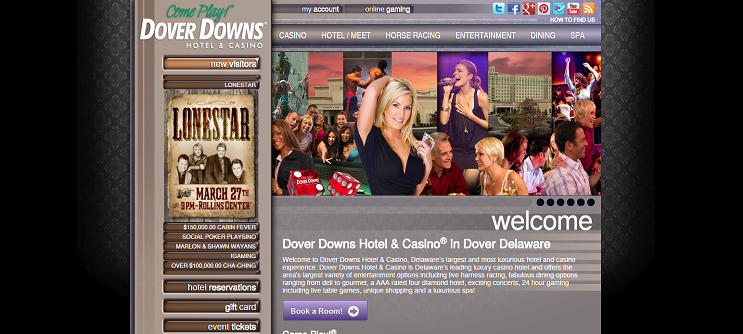 Dover Downs, a Pennsylvania casino, wanted their new website to appeal to their clientele, facilitate the operations of the hotel's employees, and attract more customers.
Our Design
We created an award-winning new appearance for Dover Downs's website. The new design features an interactive Flash header and body images that accurately portray the excitement of going to Dover Downs. The back-end of the site features a custom-built content management system (CMS) that forwards any website changes to managers for approval before the changes are published on the site.
Effectiveness
The website redesign, SEO, PPC campaigns, and conversion testing lasted for roughly a year, and it's led to some major improvements for Dover Downs overall. Today, they enjoy a 24% increase in overall traffic, a 16% decrease in bounce rate, and a 31% increase in search engine traffic.
Use inbound marketing for your company
If you want to experience the power of inbound marketing for yourself, we're here to help! We have a full team of Internet marketers who can get you the results you need to grow your company -- and then some! All you have to do is contact us, and we'll start working on an inbound marketing plan for your business today!
Learn More About Inbound Marketing: