Keywords are one of the most important parts of your marketing campaign. Without them, you won't be able to reach your target audience, or rank in search engines for the keywords your audience is looking for.
Though basic keywords are important, long-tail keywords or keyword phrases are even more important.
On this page, we'll take a look at long-tail keyword research – a powerful kind of search term that can lead to more conversions, lower your costs, and drive your specific target market to your site.
What are long-tail keywords?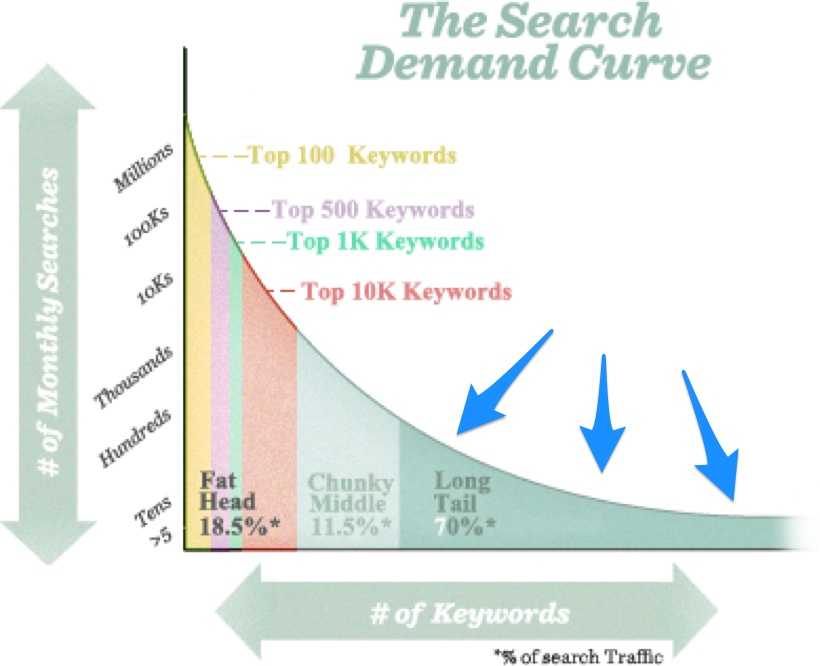 By definition, long-tail keywords are terms that are in groups of three or more words and are highly targeted to a specific group of searchers and their intent.
For example, a sports apparel site might rank for "sports jerseys" or "sports apparel", but they could use a long-tail keyword strategy to rank for "buy Eagles football jersey" or "Eagles football jersey for sale."
By doing this, they can focus their keywords and start drawing users to their site that have the intent of converting and purchasing a jersey.
Long-tail keywords narrow down the results on the search engine ranking pages, or SERPs, and display more specific results that are focused on user intent – usually for users with the intent of converting.
Long-tail keywords are also less difficult to rank for since they are so specific and therefore have a lower competition rate.
Why use long-tail keywords?
Long-tail keywords have less search volume but have a lower competition rate and higher conversion rates as a result of their specificity. When you target long-tail keywords to what your users are searching for, you can become the authority in your niche.
Here are even more benefits of focusing your keyword strategy on long-tail keywords:
You identify search queries that your target users are looking for. Long-tail keywords have such a high conversion rate because they focus on users who are searching for more information that your site can specifically provide to them.
Less competition means higher rankings for your site. You'll be getting the most relevant content directly to users who are searching for it.
You save money! There is less competition for long-tail keywords and therefore the cost to you is less. Who can say no to higher rankings at lower costs?
How to find long-tail keywords
Long-tail keywords make up around 70% of all searches but can be hard to find and implement if you don't know where to start. Begin your long-tail keyword research strategy by thinking in the mindset of searchers.
Long-tail keywords come from looking at common questions in a natural language. You can create your own long-tail keywords by pairing "how to" or "where to find" to action words such as "buy" or "purchase" to a specific product or service attributes.
This will result in keywords that are targeted directly to your intended audience. By doing this, you not only get more traffic to your site but also more conversions since you are driving users who are at or are likely close to the conversion stage.
There are multiple tools to use when it comes to searching for long-tail keywords that would help drive intended users to your site:
Google- check out the suggested searches section on the bottom of the SERP and autofill in the search bar to find inspiration and see what people are searching for recently
BuzzSumo- see total shares and popular and trending searches on social sites
AnswerThePublic- see common questions and searches from keywords
SEMrush- find high ranked keywords and collect ideas from suggested searches
Quora- see popular questions that people are asking
Long-tail keywords and inbound marketing
In order to help your inbound marketing strategy, you need to strategically place your long-tail keywords on your site. To start, look for places that you can replace the head keywords you are currently using with more specific long-tail keywords. This is important if you want to go up in search rankings since head keywords are:
More competitive
Harder to rank for
A smaller percentage of all searches (those located in the upper 20% of the search demand curve)
Hard to optimize since it's a guessing game when it comes to choosing which ones to use
Vague and may not drive your intended users
Less likely to lead to conversions
When it comes to placing new long-tail keywords on your site, there are a few crucial places to start:
Title Tags and H1- towards the beginning
URL- after the domain/in the slug
H2- use variations of your long-tail keyword in these
Content- naturally incorporate your long-tail keywords and variations throughout; write new content based on long-tail keywords
It's important to keep in mind user intent as you're going through this process and keep everything you're doing relative to what they're looking for.
Looking for more on long-tail keywords and inbound marketing?
Contact the Inbound Marketing Inc. team to continue to learn more and to take the next step towards improving your business today!