A Step-by-Step Guide to Search Engine Optimization
Every private school should have an online strategy in place. Not only is your online strategy an opportunity to capture more traffic and increase online admissions inquiries, it also sends a message about your school. Your website and your web presence (or lack of it) conveys one of these two messages:
"We are a progressive school that stays relevant with the changing communication methods and media."
OR
"We are a school that claims to be progressive but falls short in implementation. We have outdated technology and offer an outdated education."
So, which message are you sending?  How can you build or fix your reputation? Let's start with the basics.
Search Engine Optimization
What is it?
Search Engine Optimization, otherwise referred to as SEO, is the practice of improving a website to increase its exposure in search engines.
What are the benefits?
Optimizing for your site for search engine exposure is equivalent to free advertising space. Having your website show up for popular and relevant searches like "Private Schools in Annapolis MD" would improve an Annapolis school's search traffic and online inquiries. And who wouldn't want that?
How can I do it?
Search engine optimization is somewhat technical, so if you don't have any background knowledge, it would be best to hire an outside SEO agency. However, we also understand that schools are often pinching pennies just to meet the budget. So here are some basic best practice tips to help you get started:
Add Google Analytics to your site. Google Analytics is a service that tracks actions such as visits and the average amount of time a user spends on a site. This will be important to gauge the success of your optimizations.
Create unique title tags and meta descriptions for all of your site's pages. Title tags and meta descriptions are the two main components of a search listing. The title tag also appears in the tab of your website browser. (These components are a small piece of code on your website that tells search engines to display the information you desire. Your IT department or website manager will likely know how to edit these options.)

Title Tag
The title tag is the blue hyperlinked text in a search listing.  Optimizing the title tag is very important because it lets Google know what your page is about. Title tags directly affect keyword rankings, so make sure to add in keywords like the aforementioned "Private Schools in Annapolis MD" into one of your title tags.  Keep in mind that titles should not be longer than 75 characters.  Anything longer will look "spammy" to search engines and may hurt your ability to rank for keywords.
Meta Description
The meta description is the gray text that is displayed just below the title tag in search results.  Meta descriptions do not affect keyword rankings anymore.  However, these descriptions are still very important for users.  Meta descriptions entice users to click on your search results and therefore should be compelling and relevant to the title tag and the content on the page.  Meta descriptions should be no more than 155 characters.
Get listed on relevant directories. Not only is it important to be listed on relevant directories like Great Schools for referral traffic and exposure, but it also helps build up a positive reputation to search engines.  Having links to your site indicates to Google that your site is trustworthy.  These links to your site (not you linking to other sites!) is a great way to increase your authority to search engines.
Increase your word count per page. It would be best to have at least 500 words of copy on each of your main pages.  Google favors sites that have a lot of content!
Local Search Engine Optimization
What is it?
Local results are a specific type of search result that is based on geographic location. You can distinguish local results because they appear in a different format in search results. Since these results are based on location, they are not determined by the same algorithm as typical search results.  For a comprehensive strategy, schools should also focus efforts on local optimization.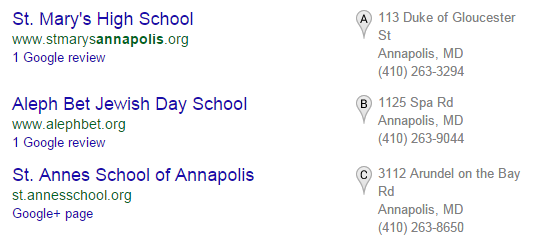 What are the benefits?
In addition to increasing your search engine exposure, local SEO is also great for having more of your information on the main search page, like your address, phone number, and reviews.
What are the next steps?
The easiest way to improve your local search results is to claim and verify your Google My Business local page.  Once you have verified your page complete the following optimizations:
Upload your logo as the profile picture.
Write and add a description of about 250 words that links to your website.
Build out your profile with all applicable categories.
Build out your profile with your correct address.
Build out your profile with your website's URL.
Build out your profile with photos.
Encourage reviews. If you receive more than 5 Google+ reviews, your local results will show .

The takeaway
These basic strategies will help improve your search engine exposure. And if you're on a strict budget, you can complete these basic optimizations yourself without spending a penny! Let us know what other strategies you have used to market your school online. We'd love to hear from you!